Adoption status

Pit Pal

Sex

Male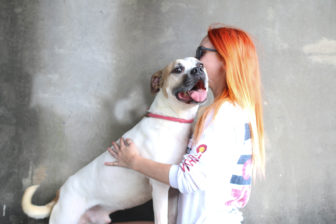 Just when you think people cannot get any more cruel….they do.  When he was just a little pup, we found "Micey" and his brother "Derek", tied to a fence in a vacant lot down in the Lower 9th Ward area of New Orleans.  With the sun beating down on them, with no water or protection from Mother Nature, there is no doubt that within a couple more hours, they both would've died from heat stroke.
He has been with us for a few years now with not one adoption application 🙁  Add to the feeling of being unwanted, recently he had to be taken in for emergency surgery due to his spleen twisting and he is now in the recovery period with having to monitor his every move, feed him a special diet, etc.
Micey is going into hospice for awhile and we sure would appreciate any sponsorships we could get on him to help with his $3400 vet bill 🙁  Once he feels better, we will then begin to promote him more than ever so that he can finally have a happy ending of his own.