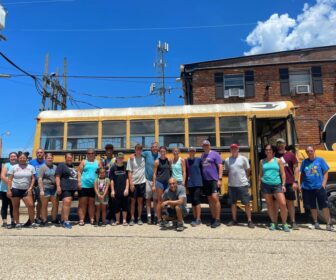 Thank you so much for inquiring about our volunteer programs. Where else can you go and have an amazing time with some great dogs and do it in such a fun place as Louisiana?!  From the festive streets of New Orleans, to the country setting of the swamps and woods, we have something for everybody.
But, before you make plans there are some things to consider:
Because our facilities and organization are connected to a TV show on Animal Planet, the public attention we receive can be overwhelming. For this reason, we are strict about respecting our workplace, and also the privacy and safety of our dogs, and staff. All of our programs now have to be monitored by one of our regular VRC staff. So again, we ask that you respect our guidelines and rules when visiting "our house."
NEW ORLEANS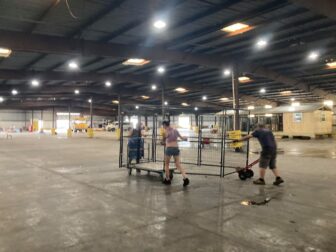 We are pleased to announce that we now have (2) different volunteer programs available out of our new facility.  Volunteering has just been changed to 7 DAYS A WEEK!  You read correctly!  We could really use your help at our new facility every morning.
The first is our "Kennel Cleaning" program where you get to become a Pit Bulls & Parolees employee for a day!  Cleaning kennels, scrubbing buckets and food bowls, you will get a true sense of what our employees do each day to keep our dogs healthy and happy.  This program is from 10am – 12pm.  7 DAYS A WEEK!
The second program is our "Dog Walking" program which is obviously self-explanatory.  Now at our new location, the walking route is longer and allows the dogs to get out and about and get all the attention you want to muster up!  This program is from 1pm – 3pm.  SATURDAYS ONLY.
And because we appreciate you so much, when you come to volunteer for us, you will receive an official VRC VOLUNTEER t-shirt!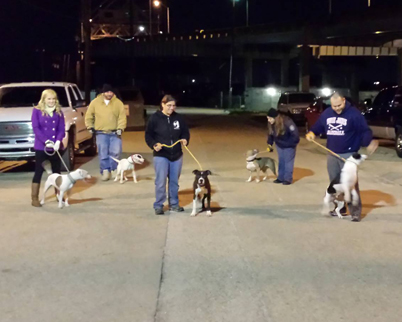 To RSVP for your volunteer day, please email us.  You only need to give us a week's time head's up.  We don't need to know you're coming "next year" haha!  When you email us, you will receive all the guidelines with answers to all of your questions.
PLEASE do not show up unannounced. We need to keep everything on a tight schedule and need to have things prearranged. We accept reservations for volunteering no sooner than a week prior to the week you would like to volunteer. A day or two is plenty of notice for us, but no sooner than seven days prior to the time you are coming.
To RSVP for volunteering, email us at: volunteer@vrcpitbull.com.
Thanks so much for your interest and get ready to be "dog-tired."